Download our corporate brochure by clicking the image below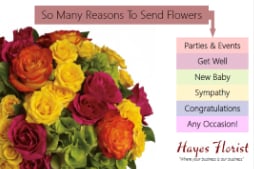 "Your business is our business" Flowers convey so many different expressions and emotions, so when your business either needs flowers for the office, for an employee, a member of their family, or another client, we want to make it our business to ensure you receive the best possible product and service. This brochure has been designed as a guide to what we can do for you based on the occasion. These are just suggestions, and many more of our beautiful arrangements can be viewed on our website, but better still, call us. We'd love to hear from you and establish a great business relationship!
Hayes Florist has been in business since 1964, with unsurpassed service, and commitment to quality second to none. Hayes Florist offers a shopper friendly website with a diverse range of floral products, gift baskets, plants, and so much more that reflects the quality and attention to customer service we offer every customer. Our commitment to you is backed by a 100% satisfaction guarantee.
Corporate Clients can expect a different and much higher quality experience when working with us than you may have previously experienced with other florists. Standing order templates for regular orders, standardized card messages depending on the occasion, order and delivery confirmation via e-mail, monthly statements of your account, and excellent credit terms, are just a few of the ways we make the buying process simpler and easier.
Quality Control is important no matter what the business is, and we have systems in place to ensure not only the freshest product is used to fulfil your order, but also that it is designed and delivered to your expectations. Our Point-of-Sale and Order Processing Systems are state of the art, delivering a full audit trail on any order, design checking and delivery routing for the most efficient and accurate service. All our sales staff are trained to handle the most difficult and challenging requirements, especially when it comes to dealing with a bereavement.
Yes We Can Florist Whatever you may need or wish for, let us know. It our commitment to reply, "YES WE CAN!" to your request.
Delivery Fees If you need a delivery anywhere in Pinellas County, we will design and deliver for you. Our local delivery fee starts at $9.95 to a maximum of $19.95. However, via our network of over 20,000 partner florists throughout the United States, we can arrange delivery anywhere you require. The partner florist's delivery fee may vary, but it is generally $10 for a local delivery, plus a $6 handling fee for sending through our wire service. We can also arrange delivery worldwide! Please call us for pricing if you have an order to send internationally. If possible, floral orders for delivery the same day in the US should be received by 11am that day. International orders require 48 hours notice.
Substitutions The items pictured are examples of what you can expect to receive or have delivered in or out-of-town. The actual item may require slight substitution of product or container, depending on availability in the delivery area. However, we will do our best to ensure what we deliver is designed to be the same, or as close as possible, to your selection.
In Closing Hayes Florist would like you to know that is our pleasure to service your floral and gift needs. If there is anything special we can do to try and make your order more personal or creative, then please let us know. Together we can make your imagination a reality. And remember, our promise to you is to make "Your Business our Business" with a 100% satisfaction guarantee.